Super Power Sports Day & Fundraiser (non-profit)
April 29 @ 11:00 am

-

3:00 pm

Free
Super Power Sports Day by MJ's Youth Eczema Foundation (MYEF) non-profit, is an active family-friendly fundraising event.
This will be a fun and active family-friendly fundraising event! Come enjoy the food, music, games, rock wall, bounce house area for kids aged 2 and up, face painters, and the big sports challenge, while learning more about the disease and its impact to young sufferers. The Super Power Sports challenge will be hosted by Cedric Thornton, former Eagles and Cowboy NFL player, and owner of Preparing Tomorrow's Athlete's, a local youth sports training organization.
There will be a silent auction and raffle with a chance to win one EPIC, exclusive, on the spot one on one, autographed memorabilia, and photo op with former Cowboys player, OU football alumni, and 2022 College Hall of Fame inductee; Roy Williams! Proceeds from the silent auction and raffle are used to provide family grants to help offset medical costs associated with eczema and to grant travel, for severe youth eczema sufferers, to destinations beneficial for skin relief. It also helps efforts to bring awareness to our local community, and fund research for pediatric eczema.
Don't miss the fun and other surprise appearances for the kiddos!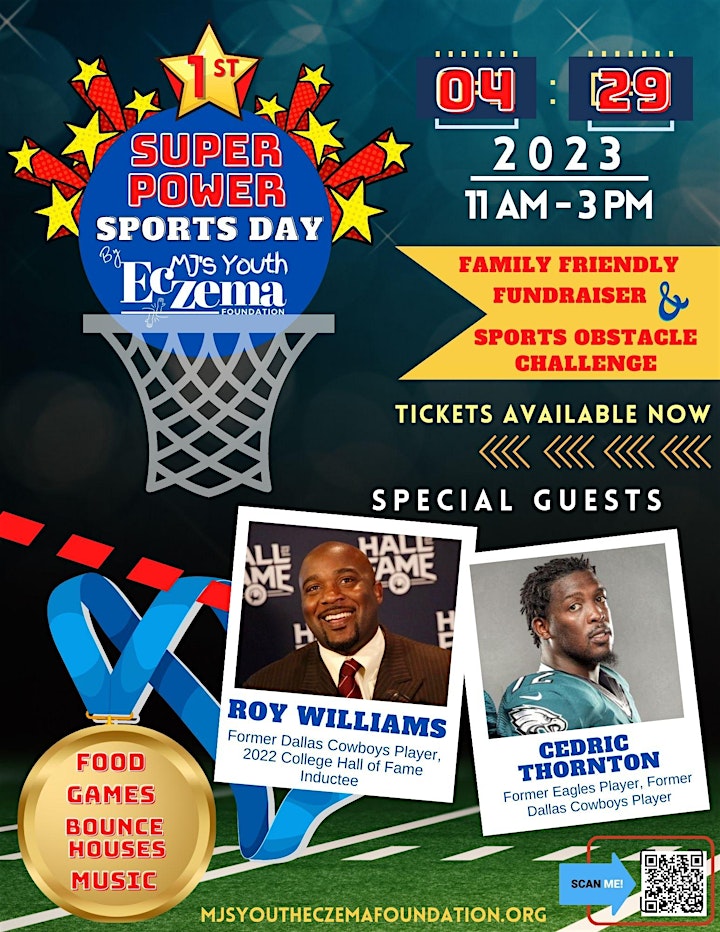 🏀 What is the Super Power Sports Challenge?
The sports challenge is a kid-friendly four sport obstacle course that will incorporate parts of basketball, football, baseball, and soccer skills. Set up is on a level terrain, located on a turf field that is 50 yards long. Kids will power through the obstacle using strength, speed, and fun!
🏈 Who can Particpate?
Particpants will be between the ages of 5 years to 12 years. Parent/Guardians are allowed to participate with each registered child. Kids will be seperated to compete in different age categories and the winners will recieve medals. All participants will receive a finisher medal. Tickets are required for all attendees over the age of 2.
⚽️ Do I have to sign a waiver?
Yes. It is mandatory to complete and sign the waiver for minors under the age of 18. Adults must also sign the waiver if they will assit the child during the obstacle. The waiver will be electronically sent 2 weeks before the event. Waivers will also be available the day of the event. There will be no exceptions made if waiver is not signed.
🏀 What do I bring?
Your smile and a winning attitude.
Make sure to have your ID for registration check-in and waivers.
Make sure to have socks. Inflatables are part of the course.
Comfy sneakers. Cleats are not permitted.
🏈 When does the challenge start?
Check-in for all ages will begin at 11:15 AM. The challenge will start at different times for age groups. You will receive challenge information 2 weeks before the event if you are registered.
⚽️ What is included with my ticket?
General Admission Ticket includes: free parking, lunch, access to indoor event area, indoor activities, and access to the outdoor spectator/cheering areas for the sports challenge field.
Challenge Add-on: All the above listed, plus entry into the Super Power Sports obstacle challenge and challenge field access, finisher medal (all participants), and free memorable photo souvenir. Winner of each age catergory is awarded a medal and trophy.
🏀 Where is the Cheering Section?
There will be designated areas on the field with full visibility to cheer on your champion if you are not participating.
There is still time to become a vendor or sponsor. Please email inquires to info@mjsyoutheczemafoundation.org.
MJ's Youth Eczema Foundation is a qualified 501(c)(3) non-profit organization. To learn more about the foundation and imapctful ways to get involve click here.
THIS EVENT IS RAIN OR SHINE. NO REFUNDS.
© 2021-2023 MJ's Youth Eczema Foundation. All Rights Reserved
Related Events